The Best Tournament Chess Boards in 2021 (Top 3 Reviewed)
When you first get into the game of chess and play for fun or as a beginner, it's easy to not pay too much attention to the style, quality, or material of the board you play on. Even less thought will go into the overall setup with pieces included.
There are electronic chess sets, themed sets, portable sets, sets for kids, and a range of other variations but once you get to a certain level in chess, you will likely want to start testing your skills and potentially enter some local tournaments.
If this is something that interests you, you might want to make the investment into a tournament chessboard to bring with you or for home use and practice. In this article, we'll look through the best tournament chess boards on the market to help you choose the best set possible.
What to Look for in Tournament Chess Boards
Before looking at any specific chess boards, we first want to run through what you should expect from a tournament standard chessboard as well as what to look for.
You definitely want to ensure your board meets regulations and that it's also good quality as some products have been known to state "tournament chess boards" in their description but the end product is far from tournament standard.
Regulations
The most important thing to look for in tournament standard chess boards is that they are meeting the tournament regulations. Chess sets can range in size and style depending on the intended user but for a tournament set, there are specific regulations that the board and pieces must meet.
These include:
The pieces must be the Staunton design (the traditional pieces you most commonly see).
Pieces must be between 3.5" – 4.25" (kings height)
Both squares and pieces must alternate between light and dark
Board squares must measure 2" – 2.5"
Pieces must be well weighted with a minimum weight of 1lb for 32 pieces
The board must be made from vinyl, wood, or paper
As you can see, there are quite a few official regulations that tournament standard boards and sets must meet. This is to allow for consistency and fairness for all players.
Size
As covered above, the size is dictated by certain regulations when it comes to the board and pieces. Squares must measure between 2" – 2.5" which rules out many of the portable, smaller sets you see (though we have found a tournament-ready portable board later in this article!).
The pieces will also need to be a certain size and weight. This is to ensure they are not knocked over easily and must be made from wood or plastic. A well-weighted piece is always preferred as they are more satisfying to move and hold their position without wobbling or falling.
This wasn't mentioned in the regulations but it's also worth looking for a board with an outside area that adds the notations for the squares.
These can also be included in the squares but having the notations for each section is preferred to recall and replicate moves, especially during practice games when you are learning chess strategy.
Quality
Tournament-ready chess boards will not be judged based on the quality of the board as long as it meets the material and size requirements. A crucial requirement for any tournament chessboard is to have some good-sized and well-weighted pieces as mentioned above but the board itself should also be considered.
A good quality board can act as the focal board for a room but with the option to use a vinyl or paper board, you can also get a good quality, tournament-ready portable board.
Therefore, you should consider the quality of the product as most will not want a cardboard set that easily rips even if it is a tournament standard!
Best Tournament Chess Boards in 2021
1. US Chess Federation Supreme Triple Tournament Chess Set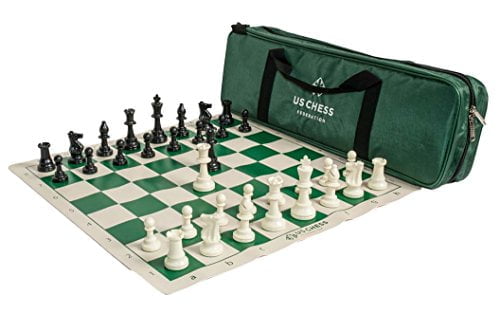 The US Chess Federation (USCF) chess set is a high-quality, tournament-ready set that is well suited to beginners and top-class players alike.
The set comes with a vinyl chessboard that rolls out easily and is made from high-grade vinyl to ensure that it always lies flat during use. Not only is it ideal for portability but its smooth surface is a pleasure to play on.
The pieces are a decent size and the triple weighted design feels comfortable and stable during use. They are not the most durable pieces but they are by no means fragile or "cheap" and will last well over time.
It comes with an included carry bag which is ideal for storing the board, pieces, pencils, playbook, and a chess clock. While it's not the highest quality bag, it's still a useful addition and adds value to the product as a whole.
While the set is a relatively highly rated product, what impressed us the most is the high quality of customer service provided by the manufacturer. They are quick to resolve any issues and are quite diligent on quality control and set themselves high standards of service.
Overall, we feel this is one of the best tournament chess boards on the market that's high quality and a durable product that is also convenient for storage and portability.
What We Like
This is an all-in-one product with a carry case included to store your board, pieces, paper, pencils, and even your chess clock for the full chess setup anytime, anywhere.
The high-grade vinyl board is regulation size and folds out to lay flat every time. It provides a smooth surface to play on and the pieces move effortlessly along it.
The triple weighted pieces are a good weight and feel both comfortable and secure during use. They are not the most heavy-duty pieces but are durable enough for frequent use.
The manufactures are always ready to resolve any issues and prove a very good quality of customer service.
What Could Be Better
The carry case is not the highest quality or most durable despite the high-quality board and pieces.
2. Wegiel European Tournament Chess Set
The Wegiel chess set is a European, handcrafted tournament set that is designed to a high standard and finish. Its handcrafted, wooden finish with stained board gives this set an authentic and high-quality feel that will be appreciated by the more experienced and avid chess player.
A favorite feature of this product is the hand-carved wooden pieces. They feel more traditional to the touch and are more satisfying to play with than a cheaper plastic set. Not only that, but they are also well weighted and more durable for long-lasting use.
This board also doubles as a portable option as it can fold and be secured shut with attached hinges. This allows you to not only store the pieces in one location but enables this board to be used portably.
One potential downside though is that some customers have found the hinges to be misaligned which could be an issue with quality control. This is not the norm though so could be down to a rare manufacturing blip.
In general, this is a good quality tournament standard set that not only meets regulations but does so with a satisfying and traditional touch.
What We Like
Handcrafted wooden pieces and board give this set a high quality and authentic finish that you can't get with a vinyl or paper set.
As the set is made entirely from wood, the pieces are well weighted and solid ensuring this is a durable and long-lasting product.
The board folds away seamlessly with attached hinges and allows you to store the pieces inside and use it as a portable set.
What Could Be Better
Some customers state the board came with misaligned hinges but we'd say these instances are an exception as the quality is generally quite high with this set.
3. Wood Expressions Deluxe Tournament Chess Set
Wood Expressions Deluxe Tournament Chess Set is a budget-friendly yet surprisingly good quality chess set that is an incredibly popular option on the market.
Arguably the key selling point with this set is the price and popularity. It comes with a very inexpensive and competitive price by any standard of a chess set, not just a tournament one. It's also one of the most purchased chess sets on Amazon and comes with a high customer rating.
The weighted Staunton pieces are a good size and come with a felt bottom to prevent scratches and make moving pieces smooth and effortless. The vinyl roll-up mat is regulation size and features notations along the side so that beginners can note down moves and learn specific strategies.
Like the USCF set from earlier, this tournament chess set also comes with an included carry case but we'd say the quality is not comparable. This bag is rather quite basic but given the overall cost of this product, it's still an addition that adds great value to the overall set.
In summary, we don't think you can really go wrong with this product. From the inexpensive price, high reviews, and decent quality board/pieces, you'll get everything you need from a tournament standard set and can even take it with you on the go with ease.
What We Like
This is an incredibly inexpensive set by tournament standards and is ideal for beginners or club use.
The popularity is unquestionable with this product and it's one of the most purchased chess sets on Amazon whilst still maintaining a high rating from customers.
The roll-up board comes included with a notation along the sides for learning and developing strategy and noting moves at a higher level.
What could be Better
The included bag is a good addition but in terms of quality, it's a rather basic bag. Still, you can't expect everything when you consider the product's price!
Editors Choice
Our choice for the best tournament chess set is the US Chess Federation Chess Set. This set is an ideal set for beginners and seasoned players alike and features everything you need for a tournament-ready game of chess.
The vinyl board is high-quality that feels smooth to play on, rolls away for ease of portability, and is designed to always lie flat. The triple weighted pieces are great to move and feel well made whilst the product also comes with a useful carry bag for ease of storage and portability.
Overall, this is a very solid tournament chess set that not only comes highly rated from a great manufacturer but is also an affordable price making it a good value for money set.
Final Thoughts
As soon as you make the leap from beginner to a more accomplished player, you might want to start looking into a tournament chess board. Of course, these sets are suitable for beginners as well but the key is to ensure that you get a good quality set.
Above, we've listed what we feel are the best tournament chess boards on the market. They pass all tournament regulations, have a good quality board with good weight, durable pieces, and they all won't break the bank as some handcrafted editions might.