The Best Star Wars Chess Sets in 2022 (Top 3 Reviewed)
Playing chess is a great way to keep your brain active, but what if I told you that your favorite Star Wars characters can play chess with you as well?
That's right. Star Wars chess sets are available to purchase, so you can have your chess pieces look like your favorite Star Wars characters. Another great thing is that these chess sets aren't even expensive at all!
It's not only you who's going to enjoy playing chess with Star Wars characters. Your friends will go crazy and will be ready to do anything to get a Star Wars chess set like yours. Use the Force in the classic game of strategy and skill – Chess!
Best Star Wars Chess Sets
Dimensions: 2.52 x 15.75 x 10.51 inches
Brand:Hasbro Gaming
Sub Brand: Star Wars
Color:Multi-colored
Material: Plastic
Star Wars Saga Edition Chess Set
Dimensions: 2.3 x 11.4 x 15.4 inches
Brand:Hasbro Gaming
Sub Brand: Star Wars
Color:Multi-colored
Material: Plastic
Star Wars Chess Set Game
As I have mentioned before, Star Wars chess set has your favorite characters as chess pieces.
Black pieces represent Imperial characters such as Darth Vader and Boba Fett, while silver pieces represent Rebel characters like R2-D2 and Han Solo.
This set will include a game board with 32 Star Wars chess pieces and 32 bases which you will have to be careful not to lose. It also comes with instructions.
The set is made out of plastic, but it's durable. Chess pieces are very uniquely made as you will be able to recognize which piece represents which Star Wars character. And that's what I like the most the time and effort they have spent on the characters.
You will also be able to move each chess piece to another base, so you can switch places with your characters. For example, you can make Darth Vader be king, and later you can make him be a knight.
Pros of Star Wars Chess Set: 
Very realistic looking characters
Included characters from all the movies

Ability to interchange the pieces
Cons of Star Wars Chess Set: 
Base of the chess pieces are plastic which makes it lightweight so sometimes characters are too heavy for the base and they tend to fall down.
Star Wars Saga Edition Chess Set
This chess set is similar to the previous one, however, this is the Saga Edition.
A video review is available below:
Yoda and Luke are versus Darth Vader and the Emperor in this set, which comes with the game board included which looks as awesome as the Star Wars chess characters are.
Which side are you on? This Saga Editor Set includes characters from all 6 movies so nobody will miss the action.
The chess board is made out of cardboard and it comes with clear instructions on how to play. All the characters are made out of solid plastic.
On the Dark Side, you will be able to find Star Wars movie characters such as Storm Troopers, Boba Fett, and Emperor. While on the light side you will be able to find Clone Troopers, Han Solo, Luke Skywalker, Obi-Wan Kenobi and much more.
All the characters as chess pieces are produced under the license from Lucasfilm Ltd. Keep in mind that this chess set is made for kids of age 8+. So if you are purchasing it as a gift, make sure you don't buy it for someone who is under the age of 8.
Pros of Star Wars Saga Edition Chess Set: 
Characters from 6 Star Wars movies
Realistic chess set pieces

Everything necessary to learn how to play
Cons of Star Wars Saga Edition Chess Set:
It's made out of cardboard and lightweight plastic

Chess pieces are a little bit too big for the board
Royal Selangor Hand Finished Star Wars Chess set
Step into the Star Wars universe with this beautifully handcrafted set of chess pieces. Every detail is precisely crafted and cast in high-quality pewter for a luxurious feel like never before! Assemble your team, make every battle count, and enjoy the power of THE FORCE on your side.
Royal Selangor is the industry leader for pewter. Founded in 1885, Royal Selangor has been producing high quality copper and tin-based products since its inception. Now they have partnered with Lucasfilm to produce a line of 8-inch figurines from iconic Star Wars characters that come complete with an array of items themed after your favorite franchise!
METICULOUSLY DESIGNED
The Star Wars collection is meticulously reproduced by our artisan sculptors, bringing life to a modern cast of warriors and champions of justice.
DETAILED
Each piece is hand-finished, and each detail has been paid careful attention.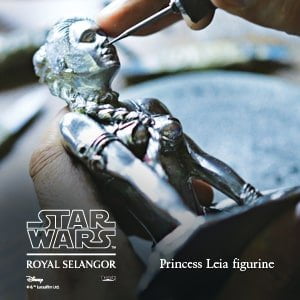 FINE, HIGH QUALITY PEWTER
While most metals will suffer from tarnishing or corrosion over time, pewter does not. Instead over time, it develops a tone unique to the metal with use.
Why are Star Wars Chess Sets so Popular?
Star Wars chess sets are hot for many reasons, but one of them is that whenever you look at that chess set, you're sure that something's gonna go down.
It keeps the game even more excited between you and your friends or family members, yet it's also more fun and you wouldn't get away from the board.
Isn't it hot and satisfying enough to control your favorite Star Wars characters into the battle, and into the victory? Well, it is for me.
However, the Royal Selangor Hand Finished Star Wars Chess set is something I needed to have by simply looking at the photos of it. When I have got it in person, it looked even hotter.
It's can be a great gift for your friends or family members who like Star Wars as well, no matter if they play chess that much at all. Because with these chess sets down below, they'll even want to learn how to play chess if they don't know already.
Conclusion
It's not only a great way to surprise your friends who are into Star Wars, yet these chess sets have a better purpose as well.
Young kids will be able to enjoy their favorite characters while training and practicing their brains by following the rules of chess and keeping their brains active.
They can serve as a collectible, but once you feel like playing chess – you will always have it a few hands away.
I really like how realistic are the characters, and that they have put effort and time to make characters from the Star Wars movies. You can take your chance and play as the Rebels or the Empire.
You get an opportunity to reminisce about the old saga or some of the new characters too. Characters that are every green such as Yoda, Luke Skywalker, Princess Leia, or Han Solo. The newer chess pieces featuring characters such as Rey, BB-8, or even Kylo Ren feature in the star wars chess set. The newer chess pieces may appeal to the new and younger generation. The older characters obviously appeal to those drawn to the original trilogy from George Lucas.
Maybe in the future, chess set makers will consider including some of the characters from the standalone "anthology" films such as Rogue One. However, with the disappointment of Solo at the box office, do not hold your breath for these anthology films making it to chess sets.
Which is your favorite Star Wars chess set?
Let me know your opinion and experience in the comments below, also feel free to ask any questions if you need help and I will be there to help you.