The Best Travel Chess Sets in 2022 (Top 4 Reviewed)
People throughout the world love chess. The slow-building strategy that explodes into excitement as you finally get to make your big move can become quite addictive. If you enjoy playing at home, why not take your chess game on the go?
The chances are that wherever you are at any given time, you can find someone and strike up a game. Chess is a fun way to pass the time with family while waiting for an airport flight.
It's a great way to unwind and relax during downtime while on vacation. Take a break from smartphones and TV screens and exercise your brain by playing some travel chess!
Having a chess set available to play on the go can be tricky, though. Even if you have a nice set at home, it's unlikely that you can (or will) carry it with you wherever you go.
Heavy pieces can be inconvenient to tote around. It's also nerve-wracking to travel with larger, potentially breakable pieces, especially those with delicate finials and details that could easily be damaged.
Weight and size can be an issue when it comes to traveling with a full-sized chessboard.
For these reasons, it's worth it to leave your regular-sized chess set at home and invest in a nice travel chess set. Whether you're headed to a local park or preparing to fly across the globe, you can travel light and still have a chess set on hand.
The good news is that just because you're looking for a portable chess set doesn't mean you must sacrifice quality. You can buy a travel chess set made of the same beautiful woods used to make full-sized sets.
How to Choose a Travel Chess Set?
There are several factors to consider when choosing a portable chess set. The first thing that comes into play is your budget. As with full-sized chess sets, travel chess sets are available at varying prices.
Think about what your ideal price range will be for securing a quality set. More expensive sets tend to be higher-quality and more attractive. Spending more will also mean that the magnets of your set will be stronger and tend to move around less.
The next thing to think about is the materials you'd like your chess set to be made of. This and the price will go hand-in-hand.
If you've been playing with expensive, wooden chess pieces at home, you may not be pleased with the weight and feel of plastic pieces – even in a travel set. However, if you're fine with high-quality plastic pieces, you'll find that this is the least expensive way to go.
Non-traditionalists can find chess sets that feature boards and pieces in unexpected shapes and sizes.
Do you want a magnetic chess set, or do you want the chess pieces to be non-magnetized? The great thing about a magnetic set is that the pieces will stay in place if the board is jostled.
Some magnetic chess boards even have the option of enclosing the game with a lid so that the pieces stay in place until the game can be continued later. Non-magnetic sets can be more lightweight, however, and more easily stored and toted around.
Consider the size you'd like, as well. Smaller chess sets will be more portable, but obviously, they'll be smaller.
The board will be tiny, as will the pieces. A bigger set will take up more space but may be easier to play with. You'll want to strike a good balance between portability and comfortable enjoyment when you play travel chess.
Budget, materials, magnets, and size. Check, check, check, and check. Let's move on and talk more about how to pick the perfect magnetic travel chess set for your lifestyle, as well as your playing style.
The Best Magnetic Travel Chess Sets of 2021
In today's world of internet shopping, it's easy to find a wide array of options for anything you're shopping for. This is also true for travel chess sets.
No matter your budget, you want to be sure that you're getting the absolute best-quality chess set for your money. We've reviewed some of the best travel chess sets, and we hope these reviews will help you choose one that will bring you years of enjoyment.
Ultimate Wooden Magnetic Travel Chess Set Review
The House of Staunton is the ultimate chess set maker, so we knew it would be top-notch when we found this magnetic chess set.
Hearkening back to travel chess sets from centuries past, the pieces in this set are stout, squat, and easy to grasp. It's made of Golden Rosewood and beautiful, light Maple wood.
These high-quality woods make this set an absolute beauty, but they also ensure that it will last through many years of travel and use. 
Although this set is beautiful, it's also functional.
The magnets are incredibly strong. Unlike some sets where the pieces shift when the board is bumped or moved, you can turn this set entirely upside down, and the pieces will stay firmly in place.
If you need to pause your game and finish it later, it's no problem with this board. Use the two-part closure system and secure the lid over the pieces. When you open it up again, they'll be right where you left them.
As far as travel chess sets go, this one is medium-sized.
The king is 1 inch high, and the squares are 0.75 inches. The entire set, once folded, is 7.5 by 7.5 inches. If you're hoping to buy a magnetic chess set, you can't go wrong with one crafted by the House of Staunton. This one is an absolute beauty, and it's one that you'll enjoy for a very long time.
Folding Wooden Magnetic Travel Chess Set Review
With this next travel chess offering by the House of Staunton, you have options. Their Folding Wooden Magnetic Travel Chess Set comes in four different sizes. Choose from a 5-inch, 7-inch, 10-inch, or 12-inch chessboard.
The pieces for the 5-inch set are amazingly tiny. If you're a person with large, fumbling fingers, one of the bigger sets may suit you best. If you'd like a micro-chess set that you can easily stash inside a purse or backpack, the smaller sets will be absolutely perfect.
Each of these sets is beautifully crafted from Golden Rosewood and Maple. As with the last House of Staunton magnetic chess set we reviewed, this one features incredibly strong magnets. Turn the entire board upside down during play, and the pieces simply won't move! 
The only downside to this chess set is that you must remove all of the pieces and store them in order to fold it up and travel with it.
That being said, it's a wonderful set that lives up to the House of Staunton reputation. The interior of the box has foam inserts so that you can store your chessmen without jostling them around.
The measurements of each of the House of Staunton Folding Wooden Magnetic Travel Chess Sets are as follows:
5-inch: The king height is a beautiful and tiny 0.75 of an inch. The squares measure 0.5 of an inch. The set (when opened for play) is 5 x 5 inches. When it's folded shut, the case measures 5 x 2.5 inches.
7-inch: The king height for this set is 1.25 inches. The squares measure 0.75 of an inch. The set (opened) is 7 x 7 inches. When folded closed, it's 7 x 3.5 inches.
10-inch: The 10-inch version of this board features a king that's 2.125 inches high. The squares are 1 inch. When the board is open for play, it measures 10 x 10 inches. When folded shut for travel, it measures 10 x 5 inches.
12-inch: Practically whopping in size compared to its 5-inch counterpart, the 12-inch board has a king that is 2.5 inches high. Its squares measure 1.25 inches.
When opened for play, this board is 12 x 12 inches. After it's been folded shut, it measures 12 x 6 inches.
No matter which size you choose, you can't go wrong with any of these Folding Wooden Magnetic Travel Chess Sets. The magnetic chess board included with each piece is of the highest quality.
The craftsmanship that goes into carving each wooden piece is simply exquisite. When you travel with a House of Staunton chess set, you travel with a bona fide work of art.
14″ Magnetic Travel Chess & Checkers Set Review
You'll recall that earlier on in this article, we discussed budget. Those who would like a travel magnetic chess set but who are working within a limited budget should definitely consider the Magnetic Travel Chess Set.
Its pieces are rendered in classic black and light colors and are made of plastic, keeping them cost-effective and very light. The board is made of metal (allowing the magnets to stick). The clever thing about this set is the heavy-duty cardboard storage box in which it comes. When you've reached a stopping point mid-game, simply tuck the lid back on the box to pause the game and store the pieces until you're ready to pick it up again.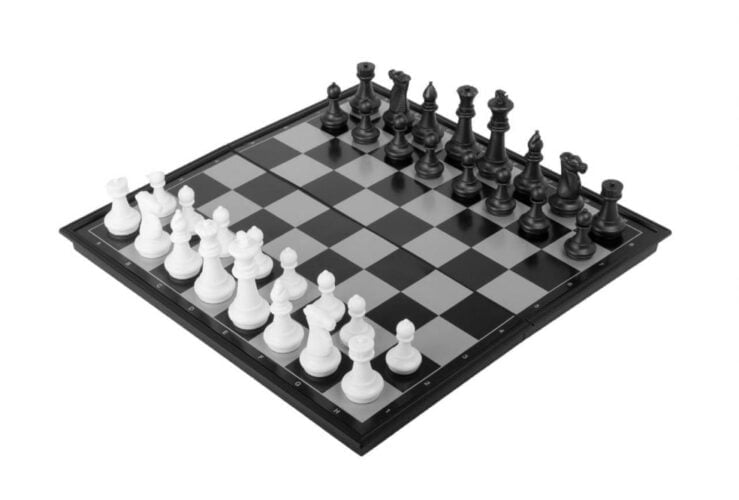 The playing squares are 14.96 x 7.28 x 1.77 inches. The box that contains the board measures 14″ inch x 14″ inch. The Magnetic Travel Chess and Checkers Set is a very low-cost, convenient option for enjoying your chess game on the go.
Sondergut Chess/Checkers Roll-Up Travel Set Review
For the ultimate in portability, check out this German chess/checkers combination set made by Sondergut. Although this set is non-magnetic, it's small and amazingly lightweight.
Simply unroll the beautiful hand-sewn anthracite/white suede board when you're ready to play. All of your pieces fit in a convenient zippered compartment to one side of the board.
The pieces are round, flat, checkers-style pieces. Use the solid black and white sides of the pieces to play a game of checkers and then flip them over to play a game of chess (the chess piece icons are imprinted on their other sides).
When it's rolled open for play, the Sondergut Chess/Checkers board measures 10 x 12-2/3 inches.
When it's time to go, simply zip the pieces up in the side compartment and pull the brass zipper closed. Roll the board up and button it closed with the attached suede straps.
Once it's all rolled up and secured, the set only measures 10 x 2 inches – the size of a pocket umbrella. It's incredibly lightweight, too, weighing less than 8 ounces. 
Although you can't magnetically save your game on the go, this set is absolutely perfect for toting anywhere and everywhere. Take it with you on the beach.
Unroll it on your tray during an airplane flight and make the time pass more quickly. Bring it to a family get-together or cookout to keep everyone entertained. Take it camping. This is the perfect travel chess set to slip into a large purse or a backpack.
For its affordability, convenience, weight, and portability, the Sondergut Chess set is wonderful.
Some may turn their noses up at playing chess with a set that doesn't feature standard chess pieces on a regular board, but others will enjoy the beautiful suede and the delightful, disc-shaped pieces.
The Game Can Always Go With You
We hope our reviews of our favorite portable chess sets have been helpful in guiding you in your choice. We tried to cover various sets, from high-quality, higher-cost ones to more affordable yet very attractive and functional chess sets.
Whether your travel style or taste – from hiking to high-flying, traditional to more eclectic, there is a travel chess set that will entertain you and make you happy.