Best Tournament Chess Sets of 2024 (Top 3 Reviewed)
In the world of competitive chess, the choice of equipment is as crucial as the strategy employed on the board. This is especially true for tournament chess sets, which are not just mere tools of the game but symbols of sophistication and precision.
In this comprehensive guide, we delve into the intricate world of the best tournament chess sets, exploring what makes them stand out in a realm where every detail counts. Whether you're a seasoned professional or an aspiring chess enthusiast, understanding the nuances of these sets is key to elevating your game.
From the craftsmanship of the pieces to the durability of the boards, we cover everything you need to know to make an informed decision on the tournament chess set that best suits your competitive needs.
| Feature | Description |
| --- | --- |
| 1. Quality Regulation Tournament Chess Set Combo | – Rating: 9.7/10<br> – Available at ChessHouse<br> – Includes Triple-Weighted Regulation Plastic Chess Pieces, Quiver Chess Bag, Vinyl Chess Board<br> – Exceeds US Chess Federation and FIDE requirements |
| 2. Wegiel Handmade European Professional Tournament Chess Set | – Rating: 9.5/10<br> – Available at Amazon<br> – Handcrafted wooden design, foldable for portability<br> – Classic aesthetics, 21″ x 21″ board size |
| 3. Wood Expressions Deluxe Tournament Chess Set | – Rating: 9.1/10<br> – Available at Amazon<br> – Super-Triple Weighted Plastic Chess Pieces, 4″ King<br> – Includes Deluxe tournament canvas chess bag, Roll-Up Vinyl Board |
Benefits of Tournament Chess Sets
Standardized: Ensures a level playing field
Easy Gameplay: Designed for flow and stability
Portable: Lightweight and compact
Durable: Long-lasting, especially plastic sets
Affordable: Accessible price points
How To Choose
Mini-analysis/Travel Chess Set: Small, portable, ideal for travel
Club Chess Sets: Standard size, versatile for schools, clubs, or tournaments
Weighted Tournament Chess Sets: Extra stability, suited for serious play
In a hurry?
If you don't have much time please check the table below for quick access to our favorites. Detailed guide below.
Whether you are just entering the tournament chess arena yourself or looking to buy tournament chess sets for a club or school you represent, it is best to know to equip yourself with the knowledge of how tournament chess developed over the years, its history, the types of tournament chess sets and how they have evolved and finally, the present rules and regulations for tournament chess sets.
With so many tournament chess sets with varying styles, sizes, weights, materials, and colors, it can certainly get overwhelming to make your choice.
Our chess experts understand this predicament and have come up with two options to choose from that are sure to cater to people looking for a budget option and those looking for a pricier chess set.
We understand that no matter whether you are choosing a tournament chess set for a school or your local chess club, quality, ease of use, availability of replacement chess pieces, portability, and price are all essential factors to consider. Furthermore, you also want the necessary accessories to go with your tournament chess pieces, such as a tournament chess bag, chess board, chess clock, and scorebook.
After trying out more than a dozen manufacturers with different levels of quality, price points, and variety, we have finalized two all-inclusive tournament chess combos that are sure to impress you.
Tournament Chess Sets – A Brief History
The chess game has been played for many centuries with different play styles using different types of chess sets in other parts of the globe.
However, chess was played as a casual game for much of its early years, with the earliest recorded game of play in 1475 in Valencia, Spain, between Francesco di Castellvi and Narciso Vinyoles. From the fifteenth century to the beginning of the nineteenth century, chess sets continued to be developed and modified in different regions.
There was no set standard for how they should look in size, shape, and style. During this time, most of the chess pieces were too tall, sometimes too similar to each other, prone to tipping over, and very clumsy to handle during gameplay.
The lack of a standardized tournament chess set meant that an opponent unfamiliar with a particular style of chess set was at an immediate disadvantage from the get-go.
It was the early 19th century when a consensus began to develop that there was a need for a standardized chess set that was easy to use and universally recognized by chess players no matter where they were located.
The solution came in 1849 from John Jacques, a sports and games manufacturer from London, who developed a chess set and got it endorsed by the 'strongest player in the world' at that time – Howard Stanton.
There are several different theories as to where and how John Jacques took the inspiration for the newly developed chess pieces.
While we may never get to find out the actual truth, a combination of all the different theories suggests that the chess pieces were significantly influenced by the culture of ancient Rome and Greece, and the chessmen were symbols of "respectable" Victorian society. The newly designed pieces also had to be such that they were cost-effective enough to be produced on a mass scale.
All in all, this was a giant leap for the standardization of tournament chess sets and with the stamp of approval and endorsement from the most influential chess player of his time, Howard Staunton, who was also a writer for Illustrated London News, this new type of chess set soon became the standard for most tournament chess sets.
The low cost, refined look, and easier gameplay made the Staunton-style chess sets massively popular in the years. So much so that in the year 1924, the World Chess Federation (FIDE) made the Staunton set their choice for all future international tournaments.
To this date, more than 150 years after its inception, Staunton Chessmen remain the choice for serious chess players and are used in international tournaments, schools, and chess clubs.
Types of Tournament Chess Sets
While the standard-shaped chessmen of Staunton style have been the basis of all tournament sets over the last century and a half, there have been slight derivative variants along the way.
From the Morphy chess set of 1851 to Lasker Chess set of 1880 and from Marshall Chess set of the early 1900s to Lessing chess set of 1930s, there is a total of 17 recognized derivatives of the original 1849 Staunton chess set.
As the world population has increased and the number of chess players worldwide has grown since 1849, the demand for tournament chess sets has increased.
Whereas most sets were made out of wood initially using lathe machines followed by some manual craft, most modern Staunton tournament sets are made using plastic. Plastic sets are easier to mass-produce in factories and thus, the most affordable option.
There is a lot of variety in tournament chess pieces and chess boards based on the type of use and the material used. There are also some subtle variations in the shape of chessmen based on different manufacturers without moving too far away from the basic Staunton style.
Tournament Chess Sets: What are the benefits?
There are many benefits to choosing standard tournament chess sets and other chess sets. Let's take a look:
Standardized
When playing in tournaments or even during the learning process for school kids, all players must be on the same level of familiarity with the chess sets. Not having a standardized size or style of chess pieces would mean an unfair advantage for one side.
For this reason, chess sets made out of glass, metal, or ceramic and those inspired by movies or TV characters are not used in tournaments anywhere in the world. Instead, standardized Staunton style chess pieces approved by the World Chess Federation are used.
Easy gameplay
Plastic chessmen built in a standardized Staunton style make for easier gameplay. The felt bottoms of the chess pieces give the players a feeling of 'flow' when making moves during a game.
The extra weighted chess pieces provide an extra bit of stability during tournament play. Most vendors give customers the option of algebraic notations on the chessboard, which can help beginners learn the game quickly by following each move.
Easy to carry
Tournament chess sets are usually made from plastic and thus are lightweight compared to their wooden or metal counterparts.
The Mini-analysis type of tournament sets is so small that they can be easily carried while traveling. Even the regulation club chess sets used in regional tournaments are compact enough to allow maximum portability.
Long-lasting
Since plastic is the most commonly used material used in tournament chess set manufacturing, you can be sure that the chessmen will stay in good shape for many years to come, and you will most likely lose or misplace them before they break or damage.
This makes them ideal for school kids and busy chess clubs – both places prone to rough usage.
Affordable
Perhaps the most important factor that makes tournament chess set an ideal option for most players is affordability. A decent plastic tournament-quality chess set can be bought from as low as $10-$20 which means the barrier to entry is quite low.
How To Find The Ideal Tournament Chess Set
Finding a tournament chess set that suits your individual needs is easy when you know what function you want out of it.
Here is a list of tournament-style chess along with recommended functions to make things easier for you.
Mini-analysis chess set or travel chess set
As the name suggests, a mini analysis chess set is a very small, miniature chess set usually sized at 14x14inch. It is a perfect travel companion as the set can be folded into a small space such as a small bag or briefcase.
The pieces are available in wood and plastic. There are several different additional options such as magnetic pieces that keep their place and allow you to continue playing even with slight bumps that are common during travel.
Although very portable, lightweight and sturdy, mini analysis chess sets are not a good option for schools or clubs as the pieces are small and prone to be misplaced easily.
Club chess sets
These are regulation chess sets equally suitable for school, clubs or tournament play. Whether it is a serious game of chess or a casual one, club chess sets are a great option.
These sets are sized at a standard tournament size with a 20″ square chess board, 3 3/4″ tall king, and roughly 2 3/4 squares.
Available in smaller budgets starting from $10 to higher budgets of $200+ and various materials, colors, and combinations, club chess sets are the most commonly used and practical tournament chess sets.
Weighted Tournament chess set
The weighted tournament chess sets add that extra bit of 'professional' touch that normal club chess sets lack. These are must-haves for a school or club that wants to take the next big step to tournament-style play.
The extra weight of chess pieces adds a level of stability and sturdiness that is an essential part of serious chess tournaments. While the size remains the same as regulation club chess sets, the weight of these sets is considerably more.
When looking for weighted tournament chess pieces, you will come across the terms 'double' or 'triple' weighted. This just means the amount of added weight there is inside the plastic chess pieces.
The more weight there is, the more stable they will be and thus, more suited to blitz or tournament play.
Best Tournament Chess Sets
Quality Regulation Tournament Chess Set Combo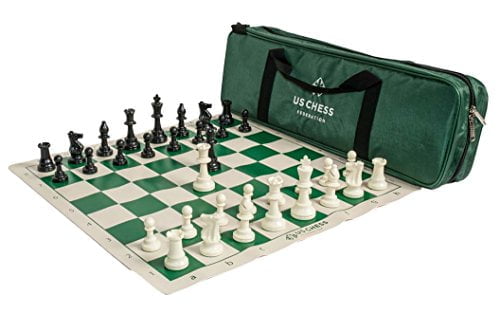 The US Chess Federation (USCF) chess set is a high-quality, tournament-ready set that is well suited to beginners and top-class players alike.
 The set comes with a vinyl chessboard that rolls out easily and is made from high-grade vinyl to ensure that it always lies flat during use. Not only is it ideal for portability but its smooth surface is a pleasure to play on.
  
 The pieces are a decent size and the triple weighted design feels comfortable and stable during use. They are not the most durable pieces but they are by no means fragile or "cheap" and will last well over time.
 It comes with an included carry bag which is ideal for storing the board, pieces, pencils, playbook, and a chess clock. While it's not the highest quality bag, it's still a useful addition and adds value to the product as a whole.
 While the set is a relatively highly rated product, what impressed us the most is the high quality of customer service provided by the manufacturer. They are quick to resolve any issues and are quite diligent on quality control and set themselves high standards of service.
 Overall, we feel this is one of the best tournament chess boards on the market that's high quality and a durable product that is also convenient for storage and portability.
It comes with a full set of Triple-Weighted Regulation Plastic Chess Pieces, Quiver Chess Bag, and a Regulation Vinyl Chess Board

Exceeds All US Chess Federation and FIDE requirements for Official Tournament Use

Perfect for Chess Players of all Ages and All Skill Levels

Designed for Chess Clubs and Schools that want the convenience of a tournament combination at a low price.

Manufactured Exclusively by the United States Chess Federation (USCF)
What We Like
This is an all-in-one product with a carry case included to store your board, pieces, paper, pencils, and even your chess clock for the full chess setup anytime, anywhere.
The high-grade vinyl board is regulation size and folds out to lay flat every time. It provides a smooth surface to play on and the pieces move effortlessly along it.
The triple weighted pieces are a good weight and feel both comfortable and secure during use. They are not the most heavy-duty pieces but are durable enough for frequent use.
The manufacturers are always ready to resolve any issues and prove a very good quality of customer service.
What Could Be Better
The carry case is not the highest quality or most durable despite the high-quality board and pieces.
Wegiel Handmade European Professional Tournament Chess Set
The Wegiel chess set is a European, handcrafted tournament set that is designed to a high standard and finish. Its handcrafted, wooden finish with stained board gives this set an authentic and high-quality feel that will be appreciated by the more experienced and avid chess player.
 A favorite feature of this product is the hand-carved wooden pieces. They feel more traditional to the touch and are more satisfying to play with than a cheaper plastic set. Not only that, but they are also well weighted and more durable for long-lasting use.
  
 This board also doubles as a portable option as it can fold and be secured shut with attached hinges. This allows you to not only store the pieces in one location but enables this board to be used portably.
 One potential downside though is that some customers have found the hinges to be misaligned which could be an issue with quality control. This is not the norm though so could be down to a rare manufacturing blip.
 In general, this is a good quality tournament standard set that not only meets regulations but does so with a satisfying and traditional touch.
This Chess Board Is The Tournament Standard Sized And A Great Gift For The Holidays

This Handmade Wooden Board Gives It A Classic, Handmade Feel That Many Chess Enthusiasts Will Appreciate; Number And Letter Algebraic Coordinates Adorn The Borders

It Measures 21"W x 21"D (52cm x 52cm), Square size is 2.25" (5.75cm)

Classic Aesthetics Are Embodied In This Chess Board That Is Handcrafted In Poland From Farm-grown Wood; Its Exceptional Craftsmanship Makes It Worthy To Be Put Out On Display
What We Like
Handcrafted wooden pieces and board give this set a high quality and authentic finish that you can't get with a vinyl or paper set.
As the set is made entirely from wood, the pieces are well weighted and solid ensuring this is a durable and long-lasting product.
The board folds away seamlessly with attached hinges and allows you to store the pieces inside and use them as a portable set.
What Could Be Better
Some customers state the board came with misaligned hinges but we'd say these instances are an exception as the quality is generally quite high with this set.
Wood Expressions Deluxe Tournament Chess Set
Wood Expressions Deluxe Tournament Chess Set is a budget-friendly yet surprisingly good quality chess set that is an incredibly popular option on the market.
 Arguably the key selling point with this set is the price and popularity. It comes with a very inexpensive and competitive price by any standard of a chess set, not just a tournament one. It's also one of the most purchased chess sets on Amazon and comes with a high customer rating.
  
The weighted Staunton pieces are a good size and come with a felt bottom to prevent scratches and make moving pieces smooth and effortless. The vinyl roll-up mat is regulation size and features notations along the side so that beginners can note down moves and learn specific strategies.
Like the USCF set from earlier, this tournament chess set also comes with an included carry case but we'd say the quality is not comparable. This bag is rather quite basic but given the overall cost of this product, it's still an addition that adds great value to the overall set.
In summary, we don't think you can really go wrong with this product. From the inexpensive price, high reviews, and decent quality board/pieces, you'll get everything you need from a tournament standard set and can even take it with you on the go with ease.
Deluxe tournament canvas chess bag with shoulder strap

Super-Triple Weighted Plastic Chess Pieces with 4" King - Collectively Weigh approximately 2.2 lbs

4" King - 34 tournament chess pieces, includes extra queens

19 3/4" Green and Buff Roll-Up Vinyl Board with 2 1/4" Squares

Perfect set for scholastic and tournament play
What We Like
This is an incredibly inexpensive set by tournament standards and is ideal for beginners or club use.
The popularity is unquestionable with this product and it's one of the most purchased chess sets on Amazon whilst still maintaining a high rating from customers.
The roll-up board comes included with a notation along the sides for learning and developing strategy and noting moves at a higher level.
What Could Be Better
The included bag is a good addition but in terms of quality, it's a rather basic bag. Still, you can't expect everything when you consider the product's price!
Final Word
Tournament chess is serious business and a time for you to put into practice the enormous amount of time and energy you have dedicated to perfecting your chess moves.
Therefore, you need a tournament chess set that truly reflects your ability. With all the necessary knowledge of tournaments, chess sets are now under your belt. With our expert recommendations, we are confident that you'll be able to select your perfect tournament chess set.
Frequently Asked Questions (FAQ)
What is the best tournament chess set?
The best tournament chess set is one that meets the standards set by the World Chess Federation (FIDE). It usually includes a board with 2.25-inch squares and triple-weighted pieces, including a king that is approximately 3.75 inches tall.
What chess set is used in tournaments?
In official tournaments, the Staunton design is the most commonly used chess set. It's recognized by FIDE and other chess governing bodies. The pieces are designed for durability and ease of use, ensuring a standardized experience for all players.
What is the best material for a tournament chess board?
Wood is often considered the best material for a tournament chess board due to its durability and aesthetic appeal. However, vinyl and silicone boards are also popular for their portability and lower cost.
How much does a professional chess set cost?
The cost of a professional chess set can vary widely, ranging from $50 for basic sets to upwards of $500 for high-quality wooden sets. Custom and luxury sets can cost even more.
Do tournaments in chess affect your rating?
Yes, participating in rated tournaments will affect your chess rating. Winning against higher-rated opponents can significantly boost your rating, while losing to lower-rated players can result in a decrease.
Why are Championship chess sets expensive?
Championship chess sets are often made from premium materials and undergo rigorous quality checks. They are designed for durability and precision, meeting the highest standards set by chess organizations. This level of quality and attention to detail contributes to their higher cost.