The 5 Best Chess Tables in 2022 (Top 5 Reviewed)
Chess is more than a simple game, it's a passion and an entire universe in and of itself. Perhaps that's why it has endured for centuries and is now played all around the world. A casual game of fun for some and a serious game of strategy for others, chess appeals to many players.
People play it to sharpen their minds, pass the time, or compete in tournaments and win glory. For serious players, chess is more than simply playing; it's also about studying the game, the strategy, philosophy, and the possible movements of the game pieces.
For a beginning or average chess player, a regular chess board is sufficient. Their goal is to play the game, whether they've been playing it for a few days or many years. I should note that regular chess boards are outstanding. They allow you to play, and that's the entire point of the game.
For some people, though, as they become more interested in the game, they often want to upgrade their boards. They want to play with better pieces that resemble works of art and feel entirely different from a regular cardboard and plastic chess set.
Top 5 Chess Tables in 2022
The Ultimate Italian Game Table
Here at Chess Directory, we focus on everything that's chess-related. However, when it comes to chess tables, sometimes a table is too magnificent to contain just a chess game. In the case of the Ultimate Italian Game Table, players can gather around it and enjoy a strategic game of chess, a quick game of checkers, a fun game of backgammon – or they can replace the cover and play a game of cards on the luxurious green billiard cloth padding on top of the table. No matter what game is your favorite, you'll be able to enjoy it on this beautiful gaming table.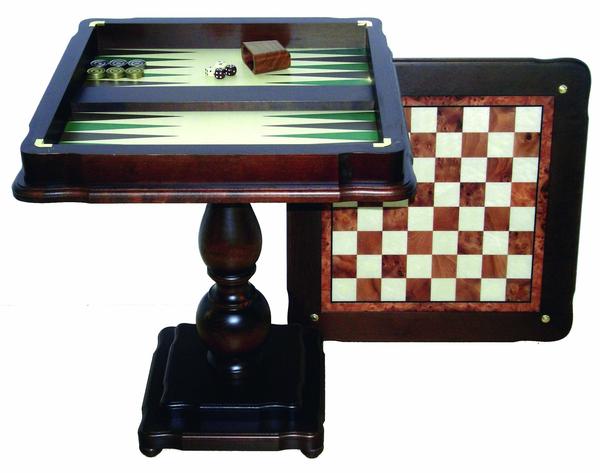 Handcrafted in Italy by highly skilled artisans, The Ultimate Game Table is made of gorgeous Mahogany and Walnut, polished to a breathtaking shine. When you open it to reveal the backgammon and chess boards, you'll note that they are inlaid with Maple and beautiful Briarwood. The design of the table is ornate and finely detailed. Beautiful, whether it's open during play or closed up and being used for other purposes, this table is a beauty. The base is small enough that you can squeeze up very close to the table, relax, and enjoy your game. 
The Ultimate Game Table measures 27 inches high. It's 23 by 23 inches in width. The chess/checkers playing squares on the board are 2 inches.
Chess, checkers, or backgammon – the choice is yours. Whether you typically prefer one of these games or are happy spending a quiet evening enjoying them all, the Ultimate Italian Game Table is a beautiful way to have fun playing all the games you love. 
Signature Traditional Chess Table
Simple and elegant, this chess table will make a beautiful addition to any room in your house. If you prefer a decorative style with clean lines and dislike incredibly ornate furniture, you should give the Signature Traditional Chess Table a closer look.
It's crafted by House of Staunton, one of the leading names in chess pieces, boards, and tables, so there's no doubt that you're getting a chess table of the highest quality with this one. The table base is made of White Oak, giving it a gorgeous contrast to the top, which is made of a richly luxurious Walnut. The focal point of this beautifully grained table is the playing field. Flawlessly inset into the tabletop, the playing field is made of Maple (for the lighter squares) and Brazilian Ebony (used to breathtaking effect in the dark squares).
This isn't a mass-manufactured chess table. Each one is custom-made as ordered, with the craftsmen paying attention to any specifications provided by the customer. After it's made, each table is individually signed by Nate Cohen, Master Craftsman with House of Staunton. With the fantastic attention to detail that goes into these beautiful chess tables, the custom creation and signature by the craftsman makes each one a truly unique masterpiece.
The Signature Traditional Chess Table squares measure 2 inches to 2 and 5/8 inches (the customer must specify their preference). The playing surface is 32 inches wide and 41 inches long. The tabletop is 30 inches high, with the leg clearance reaching 24 and 3/4 inches. Customers may also specify if they want a table with no drawers, one drawer, or two. The table will ship unassembled, but assembly is straightforward and very quick.
One of our favorite chess tables, the Signature Traditional Chess Table, will look at home in various decors. Because it's not overly ornate, it will make a stylish addition to even more contemporary decorative styles. Another remarkable aspect of this table is its size makes it perfect for a coffee table. Put books on it, use it to display snacks for guests, or set up a variety of other board games or play cards. This chess board table is as versatile as it is beautiful. If you'd like to buy a chess table, you can't go wrong with this one.
Alabaster 23.5″ Italian Marble Chess Table
Of all the chess tables for sale, this one stands out from the crowd. For a genuinely unique chess table, the designers of this one decided to inlay the chess board with elegant Italian Alabaster. Valued since Biblical times for its translucence and rarity, Alabaster makes this chess board absolutely glow.
Because of the way light plays on genuine Alabaster, years ago, home designers discovered that it's a beautiful material out of which to create lighting fixtures. Imagine our surprise at finding it being used for a chess table! Alternated with the dark squares, the Alabaster makes for an unusual and wonderfully magical chess board.
The table itself is beautifully and ornately carved from solid Walnut and Italian Mahogany. The base sits slightly raised off of the floor by four rounded supports. The tabletop sits on a single pillar and features two perfect storage drawers nicely accented with small brass handles. Don't be fooled by the small base on this rather large table; it's very sturdy, stable, and solid. This is an incredibly well-made board that will stand up to years of admiration and use.
Handcrafted in Italy, the Alabaster Italian Marble Chess Table measures 27 3/8 inches high. The chess board size is 23 1/2 inches by 23 1/2 inches, and the actual playing surface is 20 inches square. The squares measure 2 1/2 inches each. The drawers are 11 by 11 by 2 1/2 inches – the perfect size to store all of your treasured chess and checkers pieces.
For a chess table that's more than functional, the Alabaster Italian Marble Chess Table is a wonderful choice. Beautiful and enjoyable to play chess on, this table is one that looks beautifully stunning simply sitting quietly somewhere in your home or office.
Chess, Checkers, and Backgammon Table
Another multi-use table, this one is well-designed and somewhat ornate, yet simple. It's an attractive table that provides the perfect platform to enjoy hours of your favorite games.
The Chess, Checkers, and Backgammon Table is crafted in Italy out of antique finished Wormwood – not a wood we've seen used on the other chess tables we've reviewed thus far. The large tabletop sits on a pillar that's connected to a sturdy, square base.
Overall, this table is very traditional in its design until you notice the solid brass chess board. What an absolute beauty this chess board is! It's a rather unexpected touch on a seemingly traditional wooden chess table. The lighter chess squares have a beautiful metallic shine, accented by the darker squares.
When you get done staring at (or playing on) the brass chessboard, remove the tabletop to reveal the backgammon board underneath.
The backgammon board is green, silk-screened, and richly inviting. Have fun enjoying a game of backgammon, and then lift that board off to reveal a fantastic storage compartment for all of your playing pieces. There's never a need to hunt down a box of chess pieces when you have them at hand, right inside your Chess, Checkers, and Backgammon Table.
This table is 24 1/4 inches high. The board size measures 20 inches square, with each square at 1 3/4 inches. There are individual slots for the storage of your pieces. The slots measure as follows: 16 slots at 4 7/8 inches by 1 7/8 inches, 16 slots at 3 3/8 inches by 1 3/4 inches, three slots at 4 1/2 inches by 1/2 inch, two slots at 1 1/4 inches by 1/2 inch.
This table will work for pieces that measure up to 1 3/4 inch at the base and are no more than 4 3/4 inches tall. Made of beautiful, high-quality materials, this Chess, Checkers, and Backgammon Table is durable and will still look gorgeous after years of constant use.
Sorrento Chess Table
As you may have guessed from the name, this beautiful little chess table is made in Italy. It's the perfect chess table for those who don't have huge amounts of room to add extra furniture to their home or office spaces. The tabletop is smaller than many of the others we've reviewed, and it sits on a carved pillar supported by a triad of gently curved table legs.
In addition to being compact, The Sorrento Chess Table is an elegantly designed table that's breathtaking in its beauty. The table itself is crafted of Briarwood and Mahogany, giving it a richly beautiful glow. The woodgrain on the top of the table is simply fascinating. The playing surface is inlaid into the table and made of Maple and Walnut.
Two of the most striking characteristics of this table are the deep, glossy finish that's used to seal the tabletop and playing surface. It glows with a lustrous shine, showing that the chess pieces will float across this beautiful board. Another beautiful touch is the flowing curved design that marks the edge of the tabletop. You won't be able to help to comment on the craftsmanship when you note the carefully-smoothed curves that make this table stand out from the rest of the round or square chess tables on the market.
The Sorrento Chess Table is 27 inches high. Its tabletop measures 26 inches, with the board size measuring 16 inches square. Each square on the playing field is 2 inches square. The only downside to this chess table is that it lacks any storage space for your chess pieces. However, its small size more than makes up for having to store your pieces elsewhere. For the distinguished chess player who does not have lots of spare space to put a bulkier chess table, this is a choice that will please.
Chess Table – Buying Guide
When this happens, players will seek out higher-quality, beautiful chessboards made of wood, stone, or metal. For experienced players, these boards are a joy to play on. The craftsmanship and materials that go into a hand-crafted chessboard make it an actual work of art that looks just as good at rest as it does when it's laid out with pieces and being used for a game. Some people who don't even play chess will often buy such a board, decorate it with beautiful pieces, and leave it out on display.
For the discerning player, having breathtaking chess pieces is also essential. Just as they will often look for a beautiful chess board, players who have developed a true passion for chess will seek out a set of chess pieces created by a true artisan. No matter your style, there is a set of chess pieces that will take your breath away. Players can find chess pieces in traditional and uniquely modern styles from hand-carved wood to beautifully cast metal. A quality set of chess pieces will be perfectly weighted and feel fantastic as they're held and moved across the board. The experience of playing with such a set is unparalleled.
There is an entire universe of chess sets available; the possibilities are virtually endless. For the traditionalist, there are beautiful sets with standard, Staunton-style chess pieces. For those whose interests range beyond just chess, there are themed pieces and sets available. For those fans of the legendary J. R. R. Tolkien, there are Lord of the Rings chess sets where orcs and wizards battle for the future of Middle Earth. If you're a history buff, an American Civil War chess set will allow you to reenact classic battles between the Union and Confederate troops in the mid-1800s.
Chess Table-Themed Furniture
Truly distinguished players want more than just a chess set; they want chess-themed furniture. This is a perfect way to describe chess board tables or tables with chess boards inlaid into them. Chessboard tables are beautiful works of art that add an air of sophistication to any space. They can also help save space; rather than having a chess table taking up room on an existing desk or table, you can have furniture with a board built right into it. Whether you leave the chess pieces set up on your table at all times, ready for play, or stash them away in between games so that the table can be used for other things, a chessboard table is a beautiful addition to your home.
How to Choose a Chess Board Table
When you first start researching to buy a chess table, you'll be amazed at how many different styles are out there. There are a lot of well-made, high-quality chess tables on the market, and you'll be able to find a large number that will capture your imagination and leave you breathless at the thought of owning them. It's worth it to stop for a second, however, and consider what it is that you're looking for in a chess table. No matter which one you choose, it's likely to be a bit of an investment, so you want to be sure you get one that you'll be happy with for years down the road. We thought we'd give you a handy guide to help walk you through the process of picking one out. When researching chess board tables, you should consider the following:
Your Budget
Perhaps this is an obvious one, but it's likely to be the most significant factor in your decision. Chess tables can range from a few hundred dollars to thousands of dollars. You want to get the most impressive, highest-quality one possible, so before doing any research at all, determine what you're willing to spend. As with anything, if you go extremely cheap, you'll likely end up with a low-quality chessboard. You get what you pay for. However, you can find many gorgeous chess boards that will provide you with years of enjoyment without breaking the bank.
The Size of Your Chess Table
The next factor that will come into play is what size your chess table will be. This will be dependent on how much space you have in the area you wish to place it. Some chess board tables are massive – the size of a regular coffee table, even. Others are incredibly tiny, resembling slight accents or end tables. Do you want to be able to use your chess table as an all-around surface for entertaining or utility purposes? If so, a larger board will be perfect. If you only want to use it for chess and gaming purposes, a smaller one may do.
Materials and Style
What's your decor style? If you have a home that's decorated with a very contemporary flair, a traditional chess table with an ornate base and curvy pillars may not fit in. Similarly, if your home is very traditionally decorated, a remarkably modern-looking chess table will look out of place. Some of these tables are very large, prominent pieces of furniture, so take the same care in picking one as you would in picking out a new coffee table or a new couch.
Part of choosing the style of your new chess table will be choosing the materials out of which it's made. Most traditional tables are made of all wood. For an eclectic flair, you can also find tables with boards inlaid with unexpected materials such as alabaster or brass. Even if these tables have a more traditional-looking base, the inlay can make them pop and help them blend in more modern settings.
Materials will also determine the price of each table, with exotic woods and materials costing more than run-of-the-mill ones. When you're considering your budget, doing a bit of research on material types will give you an idea of what to expect.
Do You Need Pieces?
If you're upgrading from a standard department store chessboard with plastic pieces, perhaps you need a good-quality set of wooden pieces to use on your new chess table board. Or perhaps you have a beautiful box that's stocked with your set of treasured, hand-carved chess pieces that were handed down to you by your grandfather.
Either way, there's a chess table for you. (Keep in mind that if you already have a set of pieces, you'll want to make sure that whatever board or table you choose matches well with your chess pieces. Many people like to keep their chess pieces set up on their boards/tables at all times. If they're a good match, this will look wonderful.)
Many of the chess tables we'll review below come with only the table itself, meaning that you'll need to supply the pieces. One of the chess tables in our reviews (the U.S.-Made Round Pedestal Game Table) comes with a set of chess and checkers pieces. If you do your homework, you'll be able to find other tablets on the market that come with pieces included.
Is Storage Important?
Another question to ask: is it a must that your chess table includes storage for your pieces? If you're playing with your treasured heirloom set, you may already have a gorgeous coffer for chess piece storage. No matter what pieces you're playing with, it's pretty convenient to be able to safely and quickly stash them away inside the chess board table itself.
One downside to chess tables with included storage? They tend to be larger. If the size is an issue, you'll need to look for a smaller table. The smaller chess tables get, the less likely they have drawers or interior compartments for game piece storage.
Final Thoughts
Chessboard tables are more than pieces to a chess game – they can be multi-functional pieces of furniture in your home. Large or small, simple or ornate, there's a chess table out there that's perfect for your lifestyle. We hope our tips and chess table reviews will be helpful to you on the journey of choosing one.