The Best Chess Clocks for Beginners (Top 5 Reviewed)
As soon as you go from a beginner learning the game of chess to someone that is ready to start playing with other players, a chess clock then becomes an essential item.
The reason for this is that chess is a turn-based game and in competition, players need to work to a predetermined time limit for moves/game duration. This is mainly to stop players from delaying a game longer in an effort to force the other player to quit.
This unsportsmanlike conduct is not welcome in chess and is the primary reason why chess clocks (or timers) are used. They are also a good addition to add variety and play different variations of chess games.
In a hurry?
If you don't have much time please check the table below for quick access to our favorites. Detailed guide below.
With a good chess clock being such an essential item for a tournament and competitive chess, we are going to look into the current options to see what is the best chess clock available.
Why Do You Need a Chess Clock?
As chess is a two-player, turn-based game that has certain time restrictions depending on the specific game/mode that you are playing, a clock is needed to accurately log the time it takes for each player to make a move and how long they have left for the game.
A chess clock is designed with two clock faces and two buttons, pressing the button on one side will stop the clock on that side whilst simultaneously starting the clock on the opponent's side which is the key aspect that makes chess clocks so unique.
What to Look for in a Chess Clock?
A chess clock is more intricate than a regular alarm clock (despite the two looking similar) because of the requirement for two separate clocks to work independently whilst in the same casing. A good chess clock will therefore have some specific features:
Analog or Digital – The number one thing you are going to be looking for in a chess clock is whether you want an analog timer (with limited functionality but ease of use) or a digital clock (which offers more programmable options but has a learning curve).
Digital clocks are the most popular options in the modern game as they offer the ability to program a number of preset game modes, have beeping functionality, a clear LCD display, and even the ability to operate a move counter.
Analog clocks are a more basic offering but are ideal for those that simply don't require extensive modes and just need a simple and reliable solution for game timing.
Material – Chess clocks can come in a range of materials with the most popular being wood, metal, or plastic. The material you choose will depend entirely on what you are using it for and also personal preference.
Wooden clocks are more traditional and typically look aesthetically better but come with a higher press and risk of scratching. Metal clocks are more durable and last longer but again can be more expensive. Plastic is the cheapest option but also the material most likely to break and will look less appealing.
Size – The size of the clock you purchase will depend on when/where you intend to use it. If the clock is strictly for home use, a larger and possibly more high-end model would be best. For travel, however, a smaller and more budget-friendly option would make the most sense as you will need something portable and also less valuable in case it becomes damaged.
Most players will have both options for games at home and while traveling.
The Best Chess Clocks
DGT North American Chess Clock and Game Timer
The DGT North American chess clock is a popular (yet slightly complicated) timer. Firstly, the programming options are excellent with a good range of presets and numerous customization options. The issue is that there is a steep learning curve in order to make any manual adjustments.
To counteract this, there are quick-set options that are great for beginners and the 16 contrast settings make this product easy to view in any light. The display is clear and again the buttons are easy to function which is great for beginners.
It's easy to access time and move count, there is a range of timer options for move delay and the product comes with a cheat sheet for accessing controls which is really quite useful. Overall, this is a solid product for those that are new to chess clocks but need time to learn manual settings and game modes.
Features:
Set delay controls for two or even three time periods
Quick and easy to set and program
Choose quick-set options for the 13 most popular controls
Set any control manually, fast
Turn move counter on and off in any option
Super-easy to correct both time and move count
Sound-alert option warns of time trouble
Signals a low battery
16 contrast settings adjust for any lighting
2-year warranty against manufacturing defects
Two AA batteries included
Clock dimensions: 7 3/4'' long X 2 1/4'' high X 4 1/4'' deep.
What We Like
There's a quick-set option for popular modes which allows for ease of use.
This particular chess clock is one of the most popular and highly rated on the market.
16 contrast settings make this product easy to view and use in any light setting. 
What Could Be Better
A lot of users find the programming difficult and complicated to grasp so this could definitely be simplified.
DGT 3000 Limited Edition
The DGT 3000 is arguably one of the most well-known and most popular chess clocks on the market both for casual play and tournaments so its reputation speaks for the high product quality and useability.
The feature we like most about this product is the limited edition, wooden look design that adds an element of authenticity to an otherwise completely modern chess clock. It has one of the largest displays on the market and provides incredibly detailed information that will appeal to the serious chess player in you.
This particular clock has 25 preset modes (including most of the more popular and widely used games), it has 5 free slots for users' customized game modes, and can also be connected to DGT e-boards. All of this combines to make a very well-rounded and versatile chess clock.
If you're unsure about the quality of his product, you only need to consider the manufacturer's included 5-year warranty to appreciate that they believe in the quality of their end product.
The Limited Edition has a beautiful wooden look
This special clock is only available in a limited quantity this yea
larger display with more information, seconds are shown from the start
What We Like
A long 5-year warranty demonstrates the manufacturer's confidence in product quality.
Sleek and limited edition design that looks classic and authentic whilst still having modern features.
Large display with detailed information.
What Could Be Better
Some customers have had an issue with the screen quality and clarity diminishing over time.
LEAP Master Tournament Clock
The LEAP Master chess clock is our analog product of choice if you are looking for a simpler and more classic-style chess timer.
With dimensions of 8.3" x 5.1" x 2", this is a relatively small and compact chess clock but also has a large and clear display that can easily be viewed from across the room so making timekeeping simple and straightforward.
The buttons are also large which is ideal for fast games like blitz that require an easy press of the button, as time is the most crucial aspect of the game. Some chess clocks can also have small, intricate buttons which some seasoned chess players do not like.
Overall, this is a basic, simple, but effective chess clock and is ideal for those that want a more classic option.
- Suitable for home and competitions, or any other games
- Simple to use, reliable and accurate
- Easy setting
- Size: 20cm x 5cm x 12cm
- Requires one AA battery (not included)
What We Like
Simple analog design is easy to use and beginner-friendly.
Large and easy to press buttons (essential for intense game moments) and an ability to pause both clocks for an agreed-upon break.
Small for portability but has a large, easily readable display and only requires a single AA battery (most require a minimum of two and can run out quickly.
What Could Be Better
Analog chess clocks will always have more limited functionality than a digital clock but we'd like to see a more classic design for the case to match other analog clocks with better visual appeal.
Chronos GX Digital Game Chess Clock
The Chronos GX is a durable and lightweight chess clock that packs some serious programming functionality. It has 12 pre-programmed modes including blitz and tournament modes and has delay and increment modes.
The product quality is almost unmatched in terms of build quality. The metal housing is solid and durable whilst the buttons are responsive and highly favored.
There is a learning curve with programming the game modes and learning the commands but once you get this mastered, this clock becomes a joy to use.
Clock type: Digital
Clock Button Type: Button
Batteries Required: 3 x AA (Included)
What We Like
The metal casing provides excellent quality and durability.
The buttons are super responsive with many players preferring them to touch button styles that are now common
What Could Be Better
Programming can be quite difficult to understand and you'll need to read through an in-depth manual to fully grasp it.
ZMF-II Black Digital Chess Clock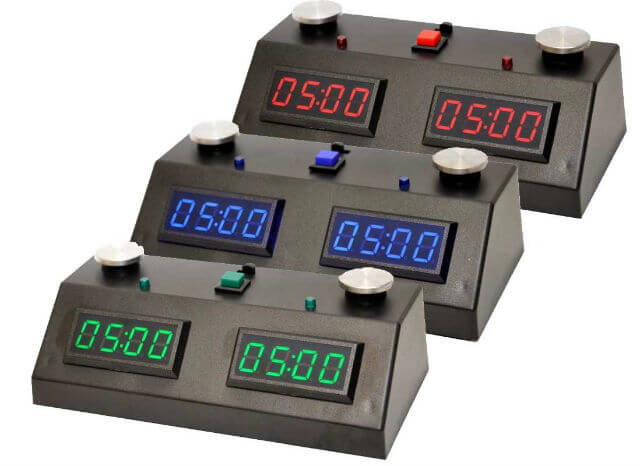 The ZMF-II Digital Chess Clock with Black Exterior is an all-purpose digital chess clock with all the necessary time settings required for various chess modes.
It boasts lightweight, anti-slide attributes for maximum stability and is housed in a durable plastic case for long-term use. It is equipped with stainless steel touch sensors and comes with various time controls that include blitz, tournament modes, move counter options, delays, and increments, other game modes, and up to 3 programmable settings.
Sound and light on and off options are available, and it comes in 3 different LED light and button colors - red, blue, and green. Requires 4 C-batteries for use (not included). One-year warranty included.
Brand: ZMart
Batteries: 4 C-batteries
Material: Metal
Editors Choice
Our choice for the best chess clock is the DGT 3000 Limited Edition. Not only is this range one of the most popular chess clocks available but you'll frequently see these clocks being used at local and national tournaments.
Add to that the limited edition casing which has a classic/authentic design, a large display with detailed readings, a range of preset modes and customizable slots, and a 5-year warranty, and the end product is a very good quality chess clock!
Final Thoughts
Chess apps have become quite popular in recent years but they simply do not offer the same appeal (or even performance) that a traditional chess clock does.
Owning a chess clock is a real sign that a player has made the advancement from a general beginner or hobbyist to a serious competitive player, regardless of skill level. Therefore, it is important to own one of the best clocks both for performance and appearance.
Hopefully, this article has better informed you of the best chess clock(s) on the market and helped you decide on either your first or an upgraded chess clock.