The Game of Thrones Chess Set Review
If you are looking for a chess set that is completely made out of metal, this chess set is the right one for you.
Pieces look very elegant and they're made out of metal, while the board is very finely crafted and it's made out of wood.
Chess is a great mind game, and it can be very competitive.
When it's combined with your favorite TV show or any other character you like, chess games will be more satisfying than ever before. Let's look at the best Game of Thrones chess set.
Game of Thrones Chess Set Review
From the house of USAOPOLY, comes this amazing Game of Thrones Collector's Chess Set. You have seen nothing like this chess set before.
The TV series has ended and now it's time for you to begin your battle. Get ready to attack & defend with your favorite characters.
The chess set includes 32 custom sculpted chess pieces that look like the characters from the HBO TV series. The 32 characters are divided into 2 sets, the Westeros & the White Walkers.
The Westeros characters include Jon Snow, Daenerys Targaryen, Tyrion Lannister, and Tormund Giansbane, Jaime Lannister and Brienne of Tarth, Drogon, and Rhaegal, and the Unsullied as pawns.
White Walker characters include Night King, Viserion, White Walkers, Horses, Giants, and the Wights as pawns.
The battle of this strategic game will be played on a custom Iron Throne-themed board. The chessboard feels like metallic gold and has a dragon scale textured back.
Other chess sets similar to the Game of Thrones Chess Set
There are many similar ones that will still keep your chess games excited and satisfying.
House of Hauteville Chess Set and Board Combo
The antique chess set is the closest you will find to the Game of Thrones.
It has unique table decor, and it's really compact due to the small size, so you will be able to carry it. There are 32 supporting antique pieces that will make the game more exciting and original.
It's a great gift for Game of Thrones fans because it's the closest chess set you will be able to find. Yet, it's still a great gift for people who like medieval themes.
A unique medieval chess set will also create a better room environment even when you're not playing it. It can be a great part of some medieval collections.
However, keep in mind that the chess set looks metal, but it's actually plastic. It would be really great if it was made completely out of metal.
Pros of Unique Medieval Chess Set:
Unique looking table decor
Antique pieces
Similar theme to Game of Thrones
Beautiful room object
Cons of Unique Medieval Chess set:
It's completely made out of plastic
Price
Dragon Chess Set Review
Dragon chess set is really something unique, which can't be seen often.
It suits the medieval theme but it's also great for a gothic theme and dragon lovers, and it definitely suits the Game of Thrones style.
The game board is on top of the stand which has a really unique design. It features dragon bones, which seem to be located in some sort of a dungeon.
It's a really nice touch once you place the glass game board on top of it. It really adds up to the atmosphere when playing chess.
Pieces are made out of pewter which is always better than plastic, and the king's size is 2-3/4 inches.
It's a really nice gift for everyone who's into dragon or gothic style. When you're not playing on the chess set, you'll be able to leave the stand around without the game board on top, which will create a better atmosphere for the entire room.
I could guarantee you that you'll never see such a well-made thematic chess set.
Pros of Dragon Chess Set:
Pewter pieces
Amazing unique design
Dragon themed set
King of a bigger size
Pieces have good weight
It's worth the money
Cons of Dragon Chess Set:
Painted chess board might get scratched over time
Pieces might get cracked if they're tipped over
Premium Metal Brass Chess Board Game Set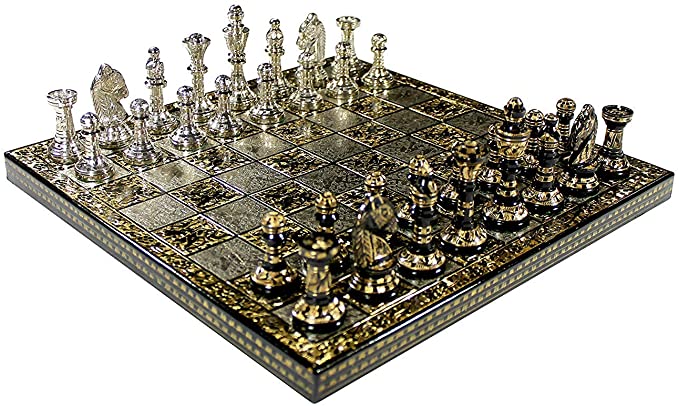 The chessboard has a great feature as it can be used as storage for chess pieces. Once you've done playing the chess on this chess set, simply lift up the game board to access the pieces storage area.
The board size is 12″ x 12″ and the king is made of a regular 2.5 inches height.
This chess set looks very elegant and the combination of metal pieces and a wooden game board is making it look expensive. It's nice chess set to have even displayed in the room whenever you aren't playing it.
It can also be used as a secret storage unit for smaller things that might fit under the game board.
It might not be as good as the Game of Thrones chess set would be, but it's still amazingly good and it's really worth the price.
Pros of Metal Chess Set With Deluxe Wood Board and Storage:
Made out of metal and wood
Well sized board and king piece
Storage feature under the game board
Great looking elegant design
Cons of Metal Chess Set With Deluxe Wood Board and Storage:
Horse piece isn't very well balanced, so he might tip over
Craftsmanship could be a little bit better
Conclusion
These chess sets aren't Game of Thrones official chess sets, however, they might give you the thematic feeling when you're playing chess.
It's a great way to get more out of chess games with your friends and family. Also, these chess sets are a great opportunity to be given as a gift to anyone who likes this kind of style.
These chess sets aren't expensive and can add up to your room decoration and atmosphere.
Which chess set is your favorite?
Let me know your opinion in the comments below, but also feel free to share the post on social media.
Recommended reading: Best Star Wars Chess Sets