WE Games Tournament Best Value Chess Set Review
The game of chess is one that takes a lot of skill, practice, and strategizing. It's usually played by two players, but when a game becomes intense more and more people become interested in watching the players compete for the coveted "checkmate".
Although few chess players will ever receive the title "Grandmaster" in their lives it is still a fun and competitive game that challenges a person's ability to think of different strategies. Many people seem to think that chess is a game for intellectuals, but although there is some truth to that sentiment, it is not always the case.
Chess can be a fun bonding activity between friends and family members. Take note that not everyone is inclined to show interest in chess, especially young children, but introducing them to the game early on is a great way to foster a love for the challenges a chess board brings.
This review will cover the Best Value Tournament Chess Set by WE Games, a basic beginner chess set that is perfect for friendly and casual games. Learn more about this set below.
WE Games Tournament Best Value Chess Set Features
WE Games Tournament Best Value Chess Set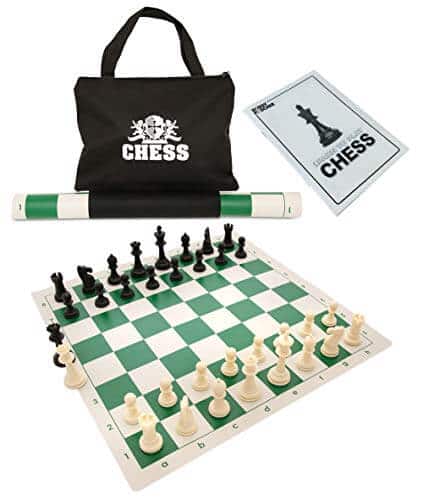 Meets the World Chess Federation standards in height, weight, and proportions
Sturdy and durable
Made with 90% plastic pieces
King stands at 3.75 inches
Entire set weighs just 1 pound
Comes with 34 Staunton-style pieces
2 extra queens provided (one per color)
Algebraic notions included on black vinyl mat
Makes game analysis easier
Board measurements: 19.75 inches, squares are 2.25 inches each
Great for bulk buying
Perfect for classrooms, schools, and chess clubs
Chessmen are made with exquisitely designed and quality plastic material
More stable than hollow pieces
Felted bottoms for easier gliding
Packed in a zip lock bag
Easy to clean with a damp cloth
Advantages
The Best Value Tournament Chess Set by WE Games is the perfect chess set for beginners. It is made using high-quality materials that make it very durable.
At the same time, these chess sets are very affordable so schools can purchase them in bulk to give students access to chess sets that meet the World Chess Federation standards. Including chess as part of the curriculum and providing chess clubs with their boards is now easy and affordable thanks to this WE Game chess set.
Parents who are teaching their kids the joy of chess playing can also find that this tournament chess set is a great introductory set. Its affordability means it won't go to waste if your child loses interest in the game. The set is also easy to store because it comes with a handy zip lock bag and the board can easily roll up into a compact size barely taking up any space.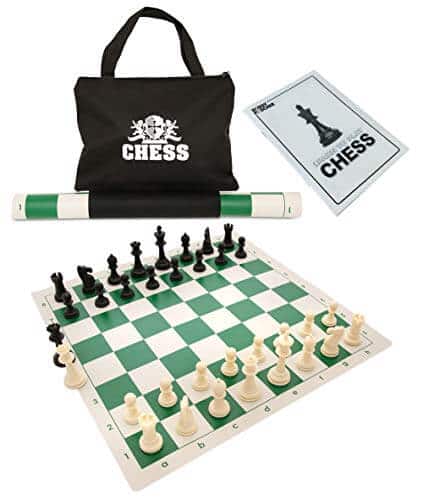 Both kids and adults simply love the smooth, well-rounded chess pieces that are easy to glide on the board due to their green felt bottoms.
The durability of the Best Value Tournament Chess Set by WE Games is also worth noting as the pieces are made with mostly plastic material. This means they can withstand a lot of wear and tear including even being dropped from a couple of feet without getting scratched.
These chess sets are great for kids to learn how to take care of a chess set because they are very sturdy and reliable. Parents and teachers all appreciate this value chess set during playtime where not everything has to be loud or electronic.
Disadvantages
One big disadvantage of this set is that it doesn't come with a box. This means it's easy to lose track of pieces because they are only stored inside a zip lock bag.
The roll-up board is also an issue for some users because it tends to curl up at the sides making it less attractive and difficult to use. To avoid these issues, store the chess set properly in a labeled bag to keep track of the pieces and lay the board on the opposite side to allow it to flatten before use.
Verdict
It is difficult to introduce new games and toys to kids who often prefer computers and technology, but this Best Value Tournament Chess Set by WE Games is a great way to expose them to chess without spending too much. The set is affordable, practical, and educational—a great combination for a board game. You truly won't regret purchasing one.